By Chloe Wildenmann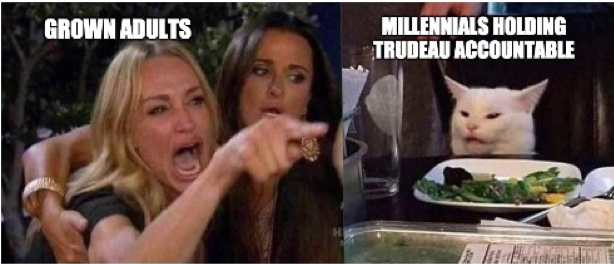 About and origin
The "Woman Yelling at a Cat" meme was one way to describe the divide between young and older Canadian voters. According to Know Your Meme[1], this meme was created by combining two stills of two separate instances: Taylor Armstrong of The Real Housewives of Beverly Hills fighting with another member of the cast during a dinner, and Canada's own Smudge the Cat staring at a plate of vegetables in a very confused manner.
Here, Armstrong represents the older Liberal voters, while Smudge the Cat represents young Canadian voters who blame Justin Trudeau for their unspecified grievances. It is not clear from this meme what these grievances are but holding Trudeau accountable evidently offends older voters who defend him and his party.
As seen below, this template has been used for many memes of various circumstances. As of January 14, 2020, the template was featured on Know Your Meme's popular page, demonstrating its widespread use and popularity amongst meme creators.
Context and circulation
This meme was posted on the Facebook page Leftist Memes for New Democratic Teens on September 30th, 2019 by a member of the group, earning 72 reactions, 2 shares and one comment. As evident by its name, the page unites young supporters of the New Democratic Party (NDP) across the country. In the weeks before and after the election, over 400 election-related memes were shared on the page.
Analysis
Is this woman yelling at a cat about nothing? Hardly. Memes present political and social issues in a humorous way, often uncovering or pointing to the emotions that underpin a specific issue or debate[2]. In this case, the meme keeps its meaning open both to the issues at hand and the deeper reasons behind the conflict between grown adults and millennials. It can circulate ambiguously without a clear message, but then find meaning in context.
Users tend to employ this meme template to express confrontational, accusatory situations between two opposing parties, represented by the angry woman and the confused cat. Humor is used in a way that releases feelings of frustration and aggression. Positing the older generation as unfairly criticizing millennials for their convictions and actions, the meme maker (most likely a millennial) tries to portray this stance as irrational anger directed at them: the yelling adult has apparently lost control over their emotions. The adult is thus posited as someone who has difficulty accepting a younger generation's views and is unable to engage with them in a mature and calm manner. The meme includes a second layer of emotion: confusion. Young Canadians, represented by the cat, are at a loss as to why they are being confronted and scrutinized for holding a political leader accountable. Hence, the memes functions as an outlet for millennials to share their feelings and emotions in a way that reinforces a group identity ("us millennials against them baby boomers").
What is the unstated, conflict between adults and millennials? Taz Dhaliwal of Global News reported that in the 2019 election, millennials made up the biggest voting bloc of eligible voters, surpassing the baby boomers.[3] One issue that has divided the two demographics and that this meme alludes to is climate change. According to Abby Jackson and Tanza Loudenback of Business Insider, in 2018, "For the third year in a row, millennials who participated in the World Economic Forum's Global Shapers Survey 2017 believe climate change is the most serious issue affecting the world today."[4] On the day of Montreal the Climate March in September 2019, Trudeau tweeted a pledge to plant 2 billion trees to support the Canadian environment[5]. This tweet was an attempt to re-build or de-brand Trudeau's image, as critics of Trudeau pointed out that his pledge would be ineffective if he continued to build pipelines and subsidize the growth of the oil and gas industry.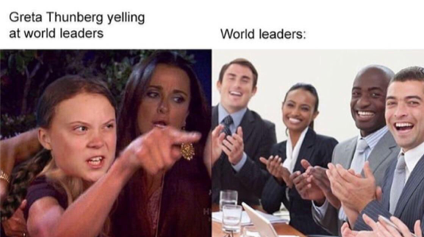 A second issue that this meme hints at is the millennial generation critiquing the Canadian government for its lack of effort for reconciliation with First Nations. Here, holding Trudeau accountable means pointing out that many indigenous communities are still living without access to clean drinking water, a quality education and equal opportunities, despite the Trudeau government's self-proclaimed progressive stance on these issues. The meme implies that millennials are the ones to dissect every promise by the government, taking nothing at face value but instead pointing out shortcomings in implementation. The older generations allegedly do not read in as deeply to the details, therefore forming opposing opinions.
Overall, the meme creator seems to imply that millennials are not letting political leaders (and the older generation) get away with anything. They bring contentious issues to light and do not shy away from conflict – which the older generation in turn gets upset about, a reaction that is incomprehensible and confusing to millennials.

---
[1] "Woman Yelling at a Cat." Know Your Meme, July 2019.
[2] Phillips, Whitney, and Ryan M. Milner. The Ambivalent Internet. Polity Press, 2017.
[3] Dhaliwall, Taz. "For the 1st Time, Millennial Voters Will Make up the Biggest Voting Bloc in a Federal Election." Global News. Global News, September 30, 2019. https://globalnews.ca/news/5938985/millenials-biggest-voting-block-canada-election-2019/.
[4] Jackson, Abby, and Tanza Loudenback. "The 10 Most Critical Problems in the World, According to Millennials." Business Insider. Business Insider, February 26, 2018.
[5] Lowrie, Morgan. "Trudeau promises to re-invest pipeline revenue into planting 2 billion trees." National Post, September 27, 2019.
---